The beginning of the Still Water Revival Project for the restoration of wells and ponds in the karst mountains
The beginning of the Still Water Revival Project for the restoration of wells and ponds in the karst mountains
Water bodies in the Croatian karst mountains are a focal point of biodiversity, but in recent decades they have been exposed to deterioration. We are partners in a new project that will reverse this process.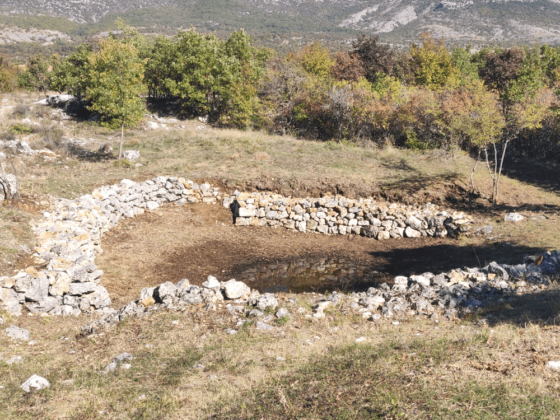 In order to restore the freshwater ecosystems on the Croatian karst mountains, we started implementing the new project "Still Water Revival – Restoring and conserving still water ecosystems of Mediterranean karst mountains". With this project, we will restore ponds and wells on mountains Biokovo, Dinara, northern Velebit and Učka, in order to support the preservation of biodiversity, as well as human activities in these areas.
The project is worth 664,910 euros and is financed by the Donors' Initiative For Mediterranean Freshwater Ecosystems. Partners in the project are organizations that manage these areas or have experience in the restoration of ponds and wells – 4 Grada Dragodid Association, Biokovo Nature Park Public Institution, Sjeverni Velebit National Park Public Institution, Učka Nature Park Public Institution, Hrvatske Šume, and Biom Association. The project will last three years – from April 2022 to the end of March 2025.
Water bodies on the karst mountains were created mostly through human activity, considering that they were a source of water for man and his "treasure" (livestock), but they are also focal points of biodiversity as a source of water for wild species in this area. But their survival is threatened! These ecosystems are highly dependent on maintenance, so due to long-term non-maintenance and inadequate use, they are largely neglected today.
In the last few decades, the mountainous parts of Croatia have been faced with the abandonment of traditional livestock practices, and rural areas have been affected by emigration, and ponds and wells without proper management have been left to succession and disappearance. The consequence of this trend is the loss of biodiversity due to the impact these ecosystems have on species such as amphibians and aquatic insects, as well as the species that use them as a source of drinking water.
The loss of ponds and wells also affects livestock farmers because it makes it difficult to keep livestock in remote areas, as water becomes increasingly unavailable as a crucial resource. In addition to the lack of water causing the disappearance of livestock from the mountains, the consequent absence of grazing leads to increasingly rapid succession and overgrowth of grasslands, which makes this habitat disappear and thereby reduces biodiversity.
The Still Water Revival project deals with all these challenges and brings solutions through a strategic approach, assessment of the current state of these ecosystems, development of a methodology for determining priorities, and finally through the restoration of those ponds and wells that are determined to represent the highest priority. Project partnership guarantees sustainability, covers different needs and jurisdictions, and provides expertise in project implementation. National parks and nature parks as well as Croatian forests as different land management systems will provide perspectives on different land management practices as well as the rules that must be followed in protected areas. Park administrations as well as non-governmental organizations foster good cooperation with local stakeholders and are able to ensure the long-term sustainability of ponds and wells in cooperation with them, which will also be useful for the local community. The Dragodid Association will ensure that all aspects of cultural heritage preservation are taken into account during the restoration of dry stone walls and will provide expertise in the collection of spatial data. Biom will provide ecological and biological expertise, as well as expertise in wildlife and habitat management and management plans.
As part of the project, a caretaker program will be developed to encourage the active involvement of local stakeholders in the care of water bodies in their area. Local organizations and schools from the areas of Dinara, Biokovo, Velebit and Učka will be invited to join the project. After they are trained – students, mountaineers, hunters and other stakeholders – they will be involved in the monitoring and management of the restored ponds and wells. The bodies of water in the karst mountains were created and maintained precisely thanks to local communities. The project aims to train the local population for their maintenance in order to ensure the long-term sustainability of the restored water bodies.
The beginning of the Still Water Revival Project for the restoration of wells and ponds in the karst mountains