Help protect griffon vultures from electrocution
In October, we plan to carry out another action and invite all interested parties, especially the residents of Kvarner, to join us and contribute to the preservation of griffon vultures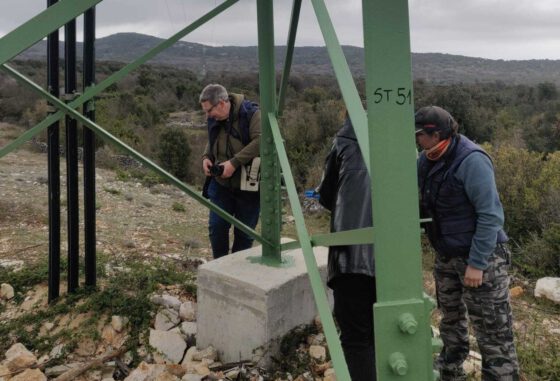 The griffon vulture (Gyps fulvus) is the only species of vulture that still breeds in Croatia. The nesting population that has been maintained in the area of ​​the Kvarner Islands is threatened by various human activities, and among them is threat from energy infrastructure, i.e. electrocution on the pylons of the medium voltage network.
Death from electrocution on power grid pylons most often affects birds with a larger wingspan. Besides the griffon vultures, the most common victims are larger species of raptors, but also owls, ravens and seagulls. The main problem is that birds see pylons as potential places to rest or, in the case of birds of prey (which are not griffon vultures), to stalk prey and therefore often land on those pylons.
The most dangerous is the type of electric pylons where there is a small distance between the conductors. With such pylons, a bird that lands on a transmission line closes the circuit because it bridges two live conductors with its wings or touches the live conductor and the grounding, and thus dies.
Since the beginning of this year, BIOM Association in cooperation with partners – HEP Distribution System Operator d.o.o. (HEP ODS), the Public Institution "Priroda", the Agricultural Cooperative "Otok Krk", the Vulture Conservation Foundation (VCF) and the Directorate for Nature Protection of the Ministry of Economy and Sustainable Development as an associated partner – implements the five-year LIFE SUPport project with the aim of preserving and improving the current situation griffon vulture population in Croatia.
Reducing the mortality of vultures from electrocution will be achieved by applying protective measures in key places. In the past few years, on the island of Cres alone, HEP Distribution System Operator d.o.o. (HEP ODS) implemented technical (mitigation) measures with the aim of protecting birds on more than 400 medium voltage pylons in order to prevent their suffering.
Through activities within the LIFE SUPport project, protection measures will be installed on another 200 poles that have yet to be identified. An important role in the preparatory activities is also expected from local volunteers who will be trained for the search of dangerous pylons by Biom employees this year.
During the training of volunteers for electrocution monitoring, which the Biom association conducted on the island of Cres in March as part of the LIFE SUPport project, dead birds were found at three of the seven points, which indicates that electrocution still represents a serious threat.
Thanks to our volunteers, we can carry out activities to search for possible electrocution hotspots, after which HEP ODS will undertake the application of mitigation measures, i.e. the modification of pylons. In October, we plan to carry out another such action and invite all interested parties, especially the residents of Kvarner, to join us and thus contribute to the preservation of griffon vultures, the largest bird species that regularly inhabits our country.