The Nature Restoration Law one step closer to realization – but with loopholes
Intensive negotiations in the trilogue were completed last night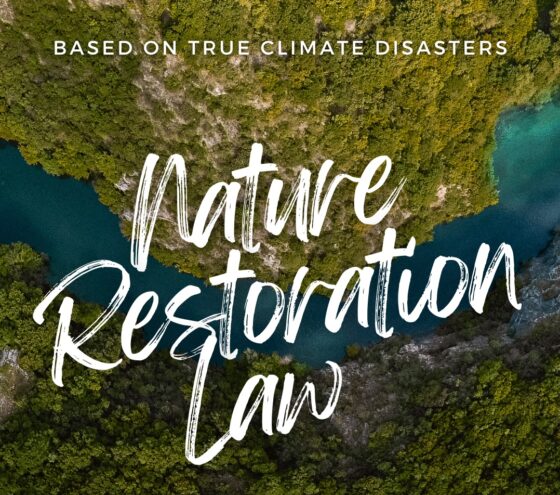 Late on Thursday evening, intense negotiations between the European Parliament, the Commission and the Council on the eagerly awaited Nature Restoration Law ended, resulting in a political agreement between the three institutions.
Although we are pleased to see that all the ecosystems originally covered by the law are still included in the agreement, the articles are watered down compared to the original Commission proposal and the Council's position. It is disappointing to see the numerous exemptions included and the excessive flexibility with regard to Member States' obligations.
Below is our first reaction to the main components of the agreement:
– The scope of terrestrial restoration is not limited exclusively to Natura 2000 areas, but significant loopholes have been added that can reduce the total area to be restored.
– The requirement to prevent deterioration is seriously undermined, making its implementation difficult.
– Fortunately, concrete requirements for increasing nature on agricultural lands, as well as restoration of peatlands, were included in this agreement, but the reintroduction of the article came at a high price by giving significant concessions, such as the introduction of the possibility to pause the implementation of the legislation – the so-called "emergency brake".
The so-called trilogue negotiations are reported to have been challenging as the Council and Commission worked to find common ground with the Parliament's much weaker position.
The Law, originally designed to implement measures aimed at restoring at least 20% of the EU's nature on land, rivers and seas by 2030, unexpectedly became the target of an aggressive disinformation and scare campaign led by Manfred Weber's EPP group, aimed at preventing this Law from ever seeing the light of day. Because of this, numerous goals were alleviated by the adoption of the Parliament's position. Many compromises and concessions were made to accommodate all parties involved, with the expectation of gaining support from even the most conservative factions.
The call for the adoption of the influential Nature Restoration Law received unprecedented support from more than a million citizens, businesses, scientists and numerous other stakeholders.
Reached agreement must now be approved by member states, and pass a key vote in the European Parliament's Environment Committee later this year, where conservative groups could again try to torpedo the regulation.
If the proposal successfully passes these steps, it will go through a final vote during a plenary vote in Parliament, expected in December 2023.
We now call on the Member States and the European Parliament to approve this trilogue agreement and not delay the much-needed restoration work that will help the EU fight the climate and natural crisis.
Sofie Ruysschaert, Nature Restoration Policy Officer at BirdLife Europe:
"We are relieved to see that the negotiators have not completely failed European citizens. The inclusion of restoration targets for farmlands and drained peatlands gives us a modest chance for a brighter tomorrow, as our ability to have food and clean water depends on these ecosystems being healthy and biodiverse. But the true litmus test lies in whether this law will really address the staggering repercussions of the climate and nature crisis. And that will only be seen if and when Member States properly implement the law."
Sergiy Moroz, Policy Manager for Water and Biodiversity at EEB:
"Despite significant concessions made to the opponents of the impactful Nature Restoration Law, the provisional agreement includes several positive elements such as targets to reverse the decline in pollinators or restore free flowing rivers. It is imperative that the law is now formally adopted by the co-legislators before the EU elections in 2024, and its implementation starts without delay to also enable EU to fulfil its global commitments on climate and biodiversity."