LIFE Artina – seabird conservation network in the Adriatic
The LIFE Artina project covers conservation issues of pelagic seabird species in the Central Adriatic area, focusing on three species: the Audouin's gull (Larus audouinii), Scopoli's shearwater (Calonectris diomedea) and yelkouan shearwater (Puffinus yelkouan).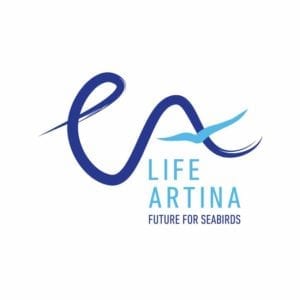 Since it is important to protect bird populations in their natural areas, the aim of this project is to help proclaim new marine protected areas important for birds (SPAs) which are recognized as key areas not only for nesting but also for feeding and migration. The accomplishment of project goals will enable long-term effective management of the Adriatic Sea in Croatia, as well as better protection and conservation of seabirds, especially the targeted species. LIFE Artina specific objectives are:
1. To identify marine special protection areas (SPAs) at sea in southern Croatia significant for the Audouin's gull, Scopoli's shearwater and yelkouan shearwater.
2. To understand and assess the main threats affecting seabird populations on land and at sea in the project area and define actions to mitigate them.
3. To reduce numbers of terrestrial invasive species (black rats) negatively affecting nesting of seabirds of the Procellariiformes order (Scopoli's shearwater and yelkouan shearwater) and to control Yellow-legged gulls at breeding sites of Audouin's gulls.
For more information, see the project's website: LIFE ARTINA
Abbreviation of the project name: LIFE ARTINA
Project beneficiary: Udruga Biom
Project partners: Association Sunce, Lastovo Islands Nature Park Public Institution i BirdLife Malta
Project duration: 1 September 2018 to 31 August 2023
Total project budget: EUR 1,921,387
Source of funding:
Project co-financed by EU LIFE Programme funds under contract no. LIFE17 NAT/HR/000594. Contribution of the EU LIFE Programme: EUR 1,152,832 (60.00% of the total project budget)
Project co-financed by: Office of the Government of the Republic of Croatia for Cooperation with NGOs, Environmental Protection and Energy Efficiency Fund