Ornithological Camp Učka 2021
You are invited to join the Učka Ornithological Camp 2021! Join us and greet the birds on their autumn migration across Učka!
The Camp is run jointly by Association Biom and the Public Institution of Učka Nature Park. We need volunteers from the 17th August to the 4th September to help us with our ongoing ringing study of birds migrating through Učka Nature Park, Croatia.
Rovozna Pond is a very special location because it is the only permanent body of water in the whole Učka Nature Park. What does this mean? It means that during the hot summer and autumn when the other ponds and streams have dried out, all of the birds migrating through the Park must stop at Rovozna Pond to drink and bathe. Once their breeding season is over in August, thousands of small birds begin to move through the Park on their southwards migration to warmer climates. With so many birds stopping in one place – Rovozna Pond – this is a fantastic opportunity for studying them by catching and ringing them.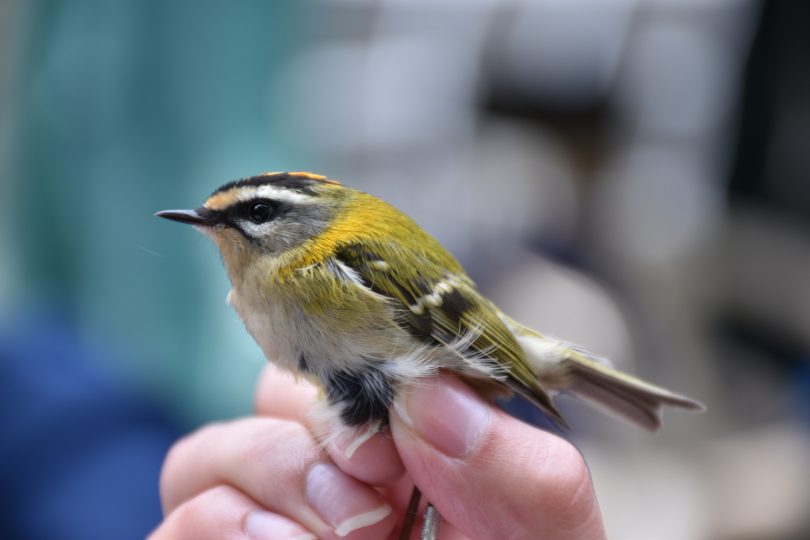 What is bird ringing?
Bird ringing is a common 'capture, mark, recapture' method used for studying wild birds. It consists of catching birds – in this case in long nets called 'mist nests' – then fitting them with a specially designed metal leg ring with a unique number before releasing them again. Details of the bird, such as its species, weight, wing length, and age, are also recorded and all of the information is kept in a database. The aim is that if the bird is caught again somewhere else, the unique ring number can be read and the new details of the bird recorded.
Why do we ring birds?
From recapturing ringed birds we can discover a vast range of information about them. We can learn about their migration routes – where they travel throughout the year and how they get there, how long they live for, changes in their weight which indicates their fat reserves, and many other things.
With this information, an assessment can be made about the quality of the habitat along the birds' migration route, threats which they face, and changes to their distribution which can be used to inform future conservation and protection actions.
Who can ring birds?
Bird ringing is very challenging and can be harmful to the birds if carried out incorrectly. As such, only highly trained and certified bird ringers are allowed to carry out bird ringing activities in Croatia. At the Camp, Association Biom staff with valid bird ringing certification will lead the ringing. Under the supervision of these highly experienced staff, volunteers might be able to assist with the ringing process if they can prove they are capable, learning about how to identify  and handle birds them safely.
This is an excellent opportunity for individuals who are training for their bird ringing certification to gain experience, but you don't have to be a bird ringer to join! This is also a great opportunity for those interested in birds to see them up-close.
Who is the camp open to?
Everyone is welcome to join the Camp, regardless of your previous experience. All we ask is that you come cooperative, willing to work, and ready to have respect for our special place and the wild animals with which we will be sharing it. Volunteers at the Camp help out with the general maintenance of the Camp, such as cooking and preparing food, putting up tents, and keeping things clean and tidy. In exchange, we offer you the opportunity to get up close and personal with the birds moving through the Park, experience bird ringing and learn about the plants, animals, and nature of Učka Nature Park.
Join us for several days or weeks in the period  17. 8. – 4. 9. We kindly ask you to apply for participating in Camp by filling out this form here. The applications are open until the 20th July. You will receive an email notification about the result of your application during the evening of the 26th July.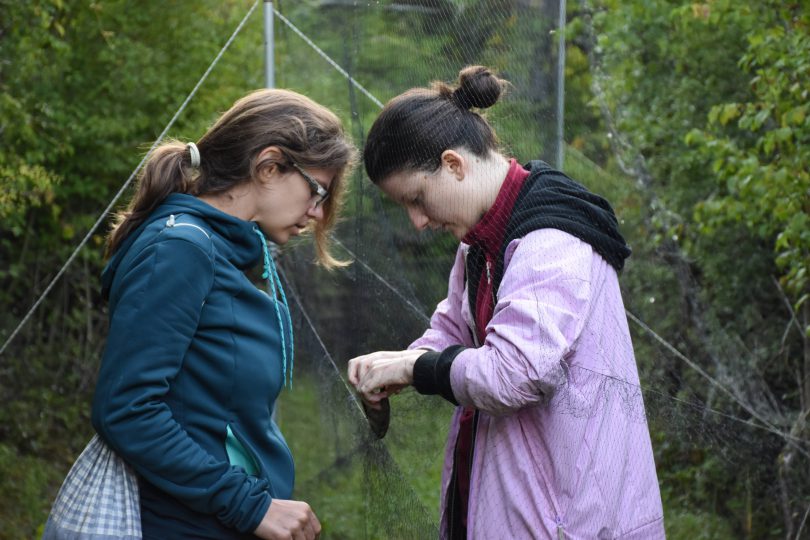 Information about the Camp
Daily fee: Daily fee is 40 HRK (around 5,50 EUR) per person and it is a contribution toward daily living expenses such as meals, potable water, waste management etc.
Sleeping in tents: There are always a few available tents, camping mats and sleeping bags at the Camp location, provided by the organizers. We ask that you bring your own tent if you can, especially if you are planning a longer visit, because we only have a limited number of tents and would like to save them for those who really need them.
Cooking together: Every few days we visit a nearby town to buy food supplies, and meals are often prepared on a campfire. Help with cooking, as well as collecting and chopping firewood is more than welcome! Since we don't have a fridge on location, the meals are mostly vegetarian.
Drinking water available on location: Our drinking water supply is limited and should be used only for drinking. For everything else we use rainwater. 
Outdoor shower: Since our rainwater supply depends on weather conditions, we have to be careful and that is why it is possible to take showers once in three days. 
Toilet in nature: The toilet facilities consist of a shovel, the forest, and a basic moveable 'toilet chair'.
Electricity from solar panels: We have limited electricity supply from a small solar panel array, so it is only suitable for charging small electrical equipment such as mobile phones or cameras.
Weak phone/internet signal: Mobile phone signal and internet coverage is present but mostly very weak and unreliable. Occasionally the signal disappears completely at the Camp location and in that case finding it requires a short walk uphill.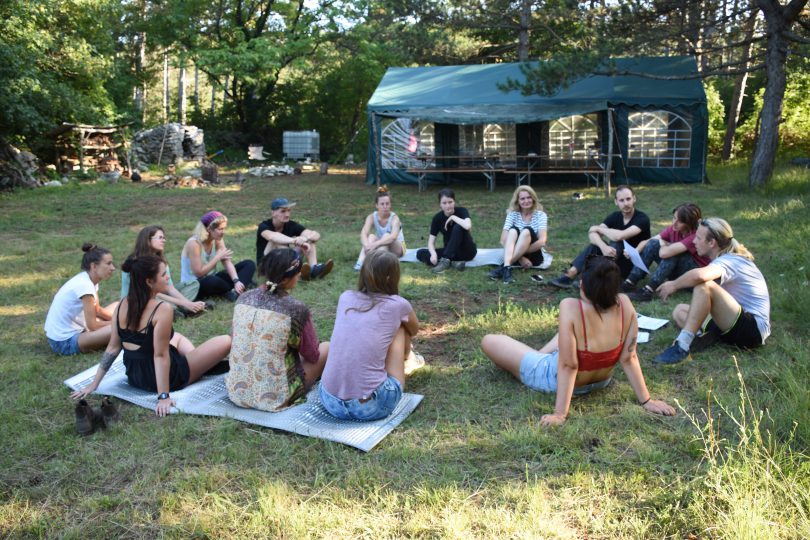 Daily schedule
5:00 – 11:30

Opening the nets and checking nets every 45 min, ringing

7:00 – 8:00

Breakfast

11:30 – 16:00

Free time

16:00 – 21:00

Opening the nets and checking nets every 45 min, ringing

16:15 – 17:00

Knowledge pot – educational activities

19:30 – 20:30

Dinner

21:00 – nadalje

Gathering around the fire
During free time the nets are closed and you can do whatever you like (e.g. read, play board games, go hiking, go swimming, rest). Feel free to bring books, board games, sports equipment etc.  
We would also like to invite you to share your knowledge with us and organize your own knowledge pot. If you are interested to hold an educational activity, please let us know in the application form and we will contact you with further details.
How and when can I get to the Camp?
You can join us each Tuesday or Saturday in the period from the 17th August to 4th September (exact schedule you can find in the application form). It is important to know the exact time and place of your arrival in order to plan our schedule so please provide us with all information in the application form. Please keep in mind that during the camp we don't have a stable internet connection, so try and give us notice of your arrival or cancelation well in advance.
Travelling by private car
You can join us on a Tuesday or Saturday at any time during the day and stay for as many days as you wish.
If you are travelling from Brseč, you need to turn left at Sveta Jelena to follow cycle route no. 8 (marked by signposts biciklistička staza br. 8) uphill. This left turning is just before the restaurant Konoba Slamnjaki, so if you see it on your left you have missed the turn. If you are travelling from Mošćenička Draga, the turn will be on your right just after the restaurant Konoba Slamnjaki, following the cycle route no. 8 (marked by signposts biciklistička staza br. 8) uphill. At the first fork in the road turn right, still following the signpost for biciklistička staza br. 8. At the second fork turn left onto a white gravel track, still following the signpost for biciklistička staza br. 8. At the third fork, continue straight. DO NOT follow the signpost for biciklistička staza br. 8, which goes right. Continue driving for several minutes. The Camp is on the right, look out for tents and parked cars.
Travelling by public transport
We can pick you up by car from Sveta Jelena or Mošćenička Draga during our midday break (11:30-15:30) on a Tuesday or Saturday. There are regular busses from Pula and Rijeka which can take you to one of these listed places. If you arrive before or after the midday break you might have to wait, sometimes for quite a while, until we have time to pick you up.
Hiking to the camp
Hiking can be a nice way to see the Nature Park, but make sure you come prepared for steep hills and hot weather!
We recommend travelling by bus to a nearby town such as Sveta Jelena, Brseč, or Mošćenička Draga, then hiking from there. Please let us know what time you intend to arrive at the Camp so we can expect you. The route is around 4 km long. 
Route Map: Google Maps
Do you still doubt about joining the camp?
Maddie, a volunteer from Australia, her last year's experience described in a following way: 
"Seeing so much active passion and motivation was the strongest highlight of this camp. I see there are people who really care and it motivates me to work in this field. I had many beautiful discussions with many intelligent minds. We had a lot of opportunities to learn. The beautiful part of an NGO is that you want to share what you know. All of the conversations, all of the learning, how much I feel closer to myself and what I want to do in my life."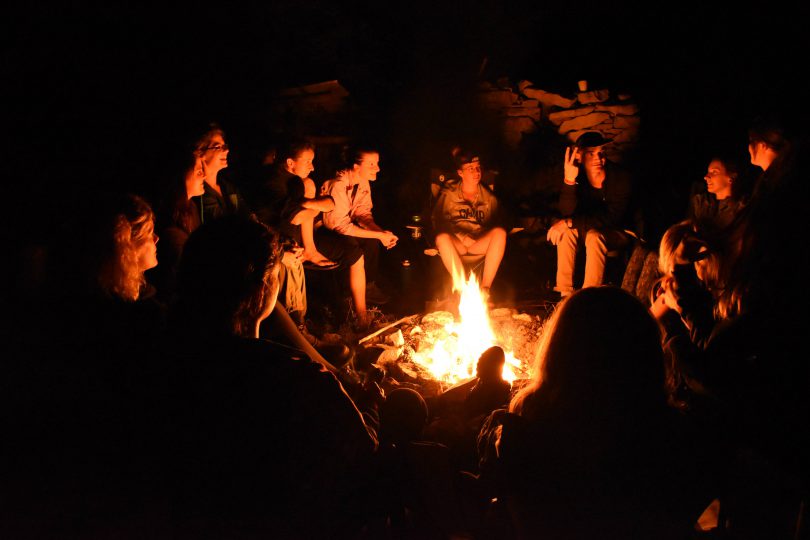 We kindly ask you to apply for participating in Camp by filling out this form here before the 20th July. There are a limited number of places. 
Please contact us with any questions you may have by email at: volonteri@biom.hr.
See you on Učka!