Open letter to Ursula von der Leyen for Sustainable Food System
Joint open letter on the need to publish the EU legislative framework for Sustainable Food Systems before the end of this Commission's mandate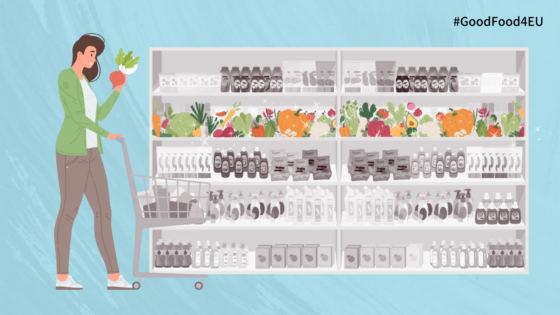 Dear President von der Leyen,
We, the undersigned organisations, and distinguished academics, are writing once again to call upon you to ensure that an ambitious proposal for an EU legislative framework for Sustainable Food Systems (FSFS) is presented before the end of your Commission's mandate.
In light of the upcoming European elections, we want to express our utmost concern regarding the delay of essential policies related to priority commitments in your mandate, particularly those of the Green Deal which promise to deliver healthy and affordable food to EU citizens.
We urge you to resist misguided and short-sighted calls for a regulatory pause in the Commission's green agenda and to move ahead as planned with the publication of the FSFS proposal. We expect this major initiative to feature prominently in your State of the Union Letter of Intent that will set out the Commission's priorities for the remainder of its mandate.
The FSFS is the flagship of the Farm to Fork (F2F) Strategy and a central piece of the Green Deal itself. Failing to publish this law will mean failing to deliver on the EU's climate, environment and health goals. The EU has set a target of reducing greenhouse gas (GHG) emissions by 55% by the end of the decade andbecome climate neutral by 2050. Work is ongoing to set an intermediary GHG reduction target for 2040. Food businesses, retailers, farmers, consumers and policymakers need the FSFS as an enabling policy framework to empower them to play their part in the transition of the agri-food sector, which is critical to the achievement of the EU's climate objectives.
Likewise, failing to prioritise the shift to healthy food environments and diets despite their known critical contribution to the prevention of non-communicable diseases will mean failing to deliver on essential health policies such as Europe's Beating Cancer Plan.
Scientific evidence clearly backs the urgency of the transformation of our food system towards a more sustainable and healthier one, within planetary boundaries. The European Commission must keep environmental and social sustainability, as well as animal welfare, at the heart of the policy debate around food, agriculture and fisheries. The challenges ahead are not minor, and the cost of inaction in terms of biodiversity loss, extreme weather events, and subsequent damage to agricultural productivity, together with the surge of non-communicable diseases, is unaffordable.
We urge you to stand by your commitment to an environmentally and animal friendly, fair and healthy food system as set out in the F2F Strategy and present an ambitious FSFS proposal as soon as possible.
Yours sincerely,
AirClim – Air Pollution & Climate Secretariat
Alcohol Action Ireland
ALTROCONSUMO
Amadriadi Aps
Anima International
Animal Protection Denmark
Arbeiterkammer
Arbeitsgemeinschaft bäuerliche Landwirtschaft e.V.
ARCHE NOAH
Associação Nacional de Conservação da Natureza
Associação Protectora dos Diabéticos de Portugal (Diabetes Portugal)
Association Biom/BirdLife Croatia
Association Végétarienne de France
Associazione Consumatori Utenti (Users and Consumers Association Italy)
Associazione Italiana di Agroecologia (AIDA)
Assoziation ökologischer Lebensmittelhersteller (AöL) e.V. (Association of Organic Food Producers)
BEUC
Biodynamic Federation Demeter
BirdLife Cyprus
BirdLife Europe and Central Asia
Cambiamo Agricoltura
Campaigns and Activism for Animals in the Industry (CAAI)
Caring Doctors
Cidamb – Associação Nacional para a Cidadania Ambiental
ClientEarth
CNCD-11.11.11.
Coalición Por Otra PAC
Coalition contre la faim
Coalition for Fair Fisheries Arrangements (CFFA)
COFACE Families Europe
Compassion in World Farming EU
Consumentenbond
Consumer Association the Quality of Life – EKPIZO
Corporate Europe Observatory (CEO)
Danish Consumer Council
Défi Belgique Afrique
Deutsche Umwelthilfe
Deutscher Naturschutzring
Dierenbescherming
Djurens Rätt
Društvo za trajnostni razvoj Duh časa (Zeitgeist, Slovenian Sustainability Society)
Dutch Food Transition Coalition
Ecopreneur.eu
Entreprendre Vert (French Network for the Green Economy)
Envol Vert
Ernährungsrat Berlin (Berlin Food Policy Council)
Essere Animali
Eten+Welzijn
Eurogroup for Animals
EuroHealthNet
European Academy of Paediatrics
European Alliance for Plant-based Foods (EAPF)
European Community of Consumers Co-operatives (Eurocoop)
European Environmental Bureau (EEB)
European Heart Network (EHN)
European Independent Foundation in Angiology/Vascular Medicine
European Institute of Women's Health
European Oncology Nursing Society (EONS)
European Public Health Alliance (EPHA)
Fair Trade Advocacy Office
Federación de Consumidores y Usuarios CECU
Fédération Française des Diabétiques
Federation SEPANSO Aquitaine
FEDERAZIONE NAZIONALE PRO NATURA
FederBio – Federazione Italiana Agricoltura
Biologica e Biodinamica
Feedback EU
Feedback Global
Fern
FIAN Europe
Focus Association for Sustainable Development
Foodwatch
Forum Ökologie & Papier
Foundation for Environmental Education
Four Paws
France Nature Environnement
German Alliance on Climate Change and Health (KLUG e.V.)
Germinale cooperativa agricola di comunità
Green REV Institute
Green Transition Denmark
Greenpeace
Hnutí DUHA – Friends of the Earth Czech Republic
Humánny pokrok
Humundi
IFOAM OE
Inštitut Intercer
Institute for Agriculture and Trade Policy Europe
International Diabetes Federation Europe
International Society of Doctors for Environment
Italy
International Sport and Culture Association (ISCA)
IPES-Food
Irish Doctors for Environment
Italian University Network for Sustainable Development
KEPKA – Consumers Protection Center
Koalicja Żywa Ziemia (Living Earth Coalition)
LandschappenNL
LEGAMBIENTE
Liga para a Protecção da Natureza (LPN)
Lipu-BirdLife Italy
Luontoliitto – Finnish Nature Association
Luxembourgish Consumer Association (ULC)
Madre Brava
Meng Landwirtschaft
Mighty Earth
Minha Terra – Federação Portuguesa de Associações de Desenvolvimento Local
Natagora
Natuurpunt
Netzwerk der Ernährungsräte, the German Network of Food Councils
Organic Sweden
Palombar – Associação de Conservação da Natureza e do Património Rural (Nature and Rural Heritage Conservation)
Pesticide Action Network Europe
Physicians Association for Nutrition International
Plantenbranchen – Danish Plantbased Business Association
Polish Society for the Protection of Birds, BirdLife Poland
Polski Klub Ekologiczny w Krakowie
Rete Italiana Politiche Locali del Cibo (National Network on Local Food Policies)
Rete Semi Rurali ETS
Safe Food Advocacy Europe
Sciaena
Seas at Risk
Slovene Consumers' Association (ZPS)
Slovenian Coalition for Public Health, Environment and Tobacco Control
Slow Food Europe
Sociedad Española de Ornitología/BirdLife Spain
Sociedade Portuguesa para o Estudo das Aves
Standing Committee of European Doctors (CPME)
Sustainable Design for Metropolitan Landscapes (SUSMETRO)
Svensk mat- och miljöinformation (Swedish Food and Environment Information)
Sveriges Konsumenter
Swedish Society for Nature Conservation
Test Aankoop/Test Achats
ToekomstProef
True Animal Protein Price Coalition
UFC-Que Choisir
ULB Cooperation
Umanotera, The Slovenian Foundation for Sustainable Development
Unión Vegetariana Española
United European Gastroenterology
URGENCI
Waddenvereniging
World Food Institute
World Wildlife Fund EPO
WWOOF Italia, l'associazione di promozione sociale
ZERO – Associação Sistema Terrestre Sustentável
This letter is supported by leading academics in the field:
Prof. Amandine Garde, Director of the Law & Non-Communicable Diseases Research Unit at the University of Liverpool, UK; President of the Law and Public Health Section, EUPHA
Prof. Erik Mathijs, KU Leuven, Belgium
Dr. Hanna Schebesta, the Netherlands
Dr. Elin Röös, Associate Professor and Senior Lecturer Sustainable Food Systems, Sweden
Prof. Dr. Adanella Rossi, Associate Professor at the University of Pisa, Italy
Dr. David Fanfani, Associate Professor in Urban and Regional Planning at the University of Florence, Italy
Dr. Jeroen Candel, the Netherlands
Dr. Vittoria Aureli, research Fellow at the Research Centre for Food and Nutrition, Italy
Prof. Egidio Dansero, Full Professor of Political and Economic Geography at the University of Turin, Italy
Dr. Anant Jani, Heidelberg University Hospital, Germany
Prof. Bruno Mazzara, University or Roma La Sapienza, Italy
Prof. Eloisa Cristiani, Associate Professor of Agricultural Law at the Sant'Anna School of Advanced Studies in Pisa, Italy
Prof. Lorenza Paoloni, Ordinario di Diritto Agrario, Dipartimento Giuridico, Università del Molise, Italy
Prof. Mariagrazia Alabrese, Associate Professor of Agricultural Law Sant'Anna School of Advanced Studies in Pisa, Italy
Prof. Vito Rubino, Professor of EU Law at the University of East Piedmont, Italy
Assist. Prof. Victoria Marincheva, Assistant Professor at the Faculty of Veterinary Medicine, University of Forestry, Sofia, Bulgaria
Assist. Prof Joana Lopes Teixeira Nogueira Santos, Assistant Professor in Economic and Business Sciences, Instituto Politécnico de Viana do Castelo, Portugal