HIGHSCHOOLERS ON A MISSION TO GROW UP GREEN
HIGHSCHOOLERS ON A MISSION TO GROW UP GREEN
At the beginning of the year, we were joined by Ivana Lokas from Šibenik, a young volunteer of the European Solidarity Corps, who spent some of her time in Sinj working with highschoolers. Her effort and enthusiasm during those meetings certainly didn't go unnoticed, and in this text, she shares her own thoughts and experiences.
In late April, in Biom's Sinj office, we set off training programmes for a group of highschoolers: a few curious young biologists who want to learn and find out more. We met the students and their biology teacher, Regina Vukasović, in their school garden, at Gimnazija Dinka Šimunovića, where we started off with our first training programme on the topic of inventorying the school garden. Recognising native plants seemed like a good opportunity to find out which plants grow in the garden, but also to inspire young biologists to share their knowledge and work together, which always makes learning easier and more interesting.
It took us about an hour and a half to go through the garden, make an inventory of all the plants, and to learn more about those plants from Tomislav Sotinac, our colleague from Biom's Sinj office. The students listened carefully and took notes because, after the educational walk, they were going to start working on a praiseworthy task. This group of young people, along with their biology teacher, are still working on an herbarium – a more modern, digital one – in which they invest a lot of their effort and time. We can't wait to see their results!
Working with such enthusiastic children, who were not only willing, but also interested to learn even after their regular school classes were over, made my job of sharing my knowledge as an educator easier, and helped me pour all my enthusiasm into providing them with more – and better – information during the meetings that followed.
Even though the road was nearby, and people were passing by noisily, we managed to come across a very impressive bird: the hawfinch. It was standing calmly beneath a chestnut tree and paying no mind to our curious glances and cameras that surrounded it.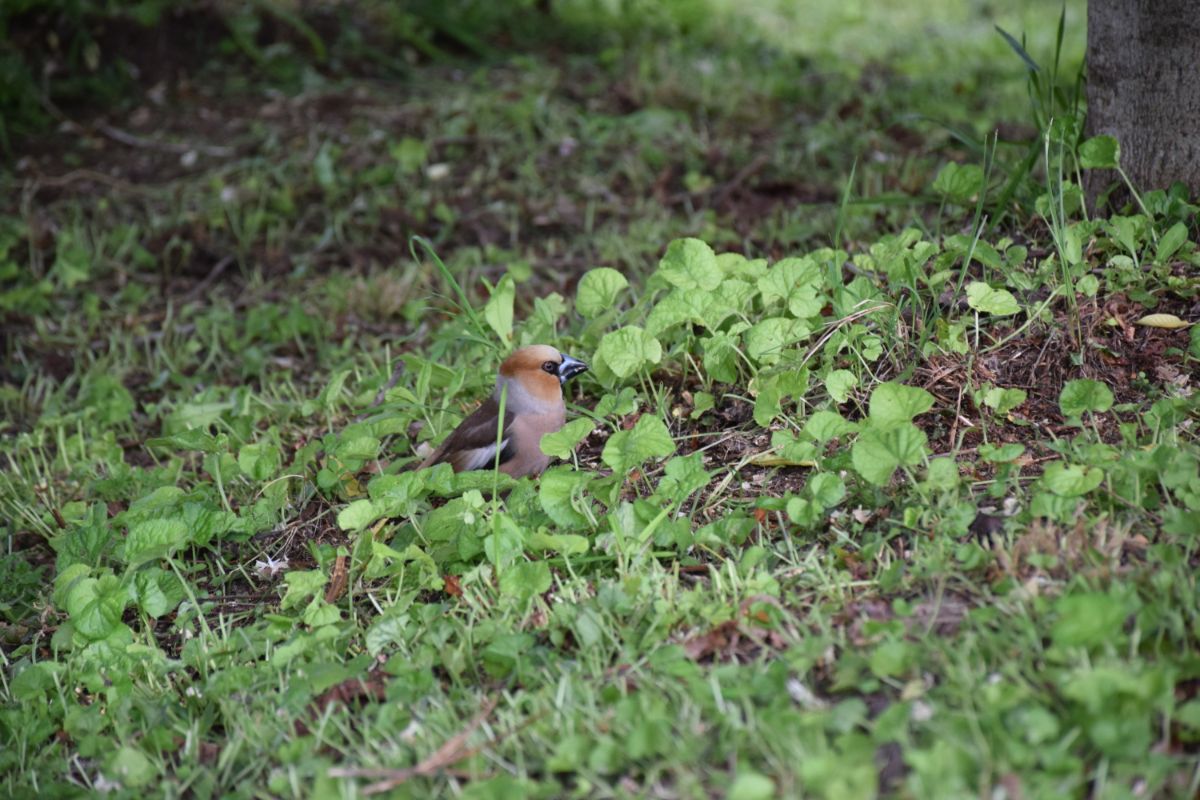 Our second training programme was completely different. This time, it was held in our office because we needed, for the purposes of this training, a flatiron. The students had the task of picking as many different species of leaves as they could find on their way to the office so that we could look at them with a magnifying glass and compare them. While, on one side, the students were mastering the skill of working with a magnifying glass and embarking on their journey through science, on the other side of the office, a smaller practical workshop on the topic of sustainability was held. The students made wax wrapping paper which can be used instead of a plastic wrap. The process of making it is fairly simple: a cloth is coated with beeswax, which provides an antibacterial protection, and, compared to a plastic wrap, it keeps food fresher for a longer time. It's also washable and reusable.
I am happy to share this kind of knowledge and skills because only through a more sustainable living can we mitigate the damage already done to our nature, or at least not add to it. In my own experience, this workshop is a great example of why learning to make wax wraps is so useful. One of the students shared with us that she saw a similar production of wax wraps on a well-known social network and that their price was very high. In reality, most sustainable objects are quite easy to make on your own and it's not necessary to pay high prices for them. People should become more aware of that.
Along with the workshops with highschoolers, we also held a workshop during the Gljevstock festival at Gljev, near Sinj. Given that the festival is being held on the place of the newly proclaimed Dinara Nature Park, the organisers really made an effort to highlight not only music, but also ecology, and in that spirit, they invited us to participate. Since we spent the day on a field where insects are unavoidable, we decided to organise a small contest of building a hotel for insects. In that way, apart from piquing their interest in building skills, we also managed to arouse their interest in insects that surround us. In addition, through our Dinara back to LIFE project, we are working precisely on habitat restoration and highlighting the importance of grasslands, their species, but also the connection of the local community with nature.
Adults and children participated in the workshop and competed over who would build the best hotel. We now have four hotels decorating the gardens of our contestants. Not only will the hotels serve to the contestants as a reminder of our workshop, but they will also certainly have a positive impact on nature. I can say that we gave our best during these workshops. We tried to transfer our knowledge, but also modernise what we do, be simpler and more interesting. The school year is now over so we are looking forward to the new workshop cycle.
Training programmes for highschoolers provided by Biom are a part of the "Grow up green" project ("Odrasti zeleno") co-funded by the Split-Dalmatia County. During the summer holidays we will take a break, and then at the end of August the training programmes are returning. This year, we are also planning to participate in the eco-art festival "Kašetarnica" in Sinj, and we are also preparing on some activities to renovate wells and drywalls.

HIGHSCHOOLERS ON A MISSION TO GROW UP GREEN