Celebration of Biom's 17th birthday in Zagreb and Sinj
Celebration of Biom's 17th birthday in Zagreb and Sinj
Biom is celebrating 17 years of existence this month.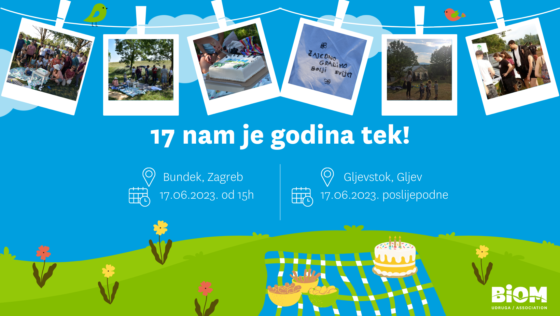 This year, we decided to open the celebrations to anyone who is interested, from members and volunteers to our supporters, as well as all nature lovers that want to join in. Celebrations will be on the 17th of June 2023 in Zagreb and Sinj.
We are inviting all those that are interested to come! This is an opportunity for you to find out more about issues we work on, projects we conduct, join us and discover how you can help protect nature with us.
In Zagreb, we will host a birthday picnic at lake Bundek from 15:00 (3 PM). Bring your picnic blanket, smile, and good mood! Joins us in a botanical walk, hang out with us, and there will also be a quiz for you to test your knowledge!
For those interested and living close to Sinj, stop by Gljevstock in Gljev on the same date in the afternoon. Hang out with us, learn about the latest nature conservation news, and you will also have an opportunity to build your own bug hotel. 
More information on the celebrations will follow during the week of the events.
See you!
Celebration of Biom's 17th birthday in Zagreb and Sinj