VOLUNTEER FOR NATURE – FLY AWAY WITH ME
Association Biom is looking for a volunteer to join its forces and help build a new generation of active youth in nature conservation in Croatia. We are offering learning experience in nature conservation, active citizenship and first-hand experience in one of the leading Croatian NGOs. The volunteering activities will start on 1st April 2020 and end on 31st March 2021.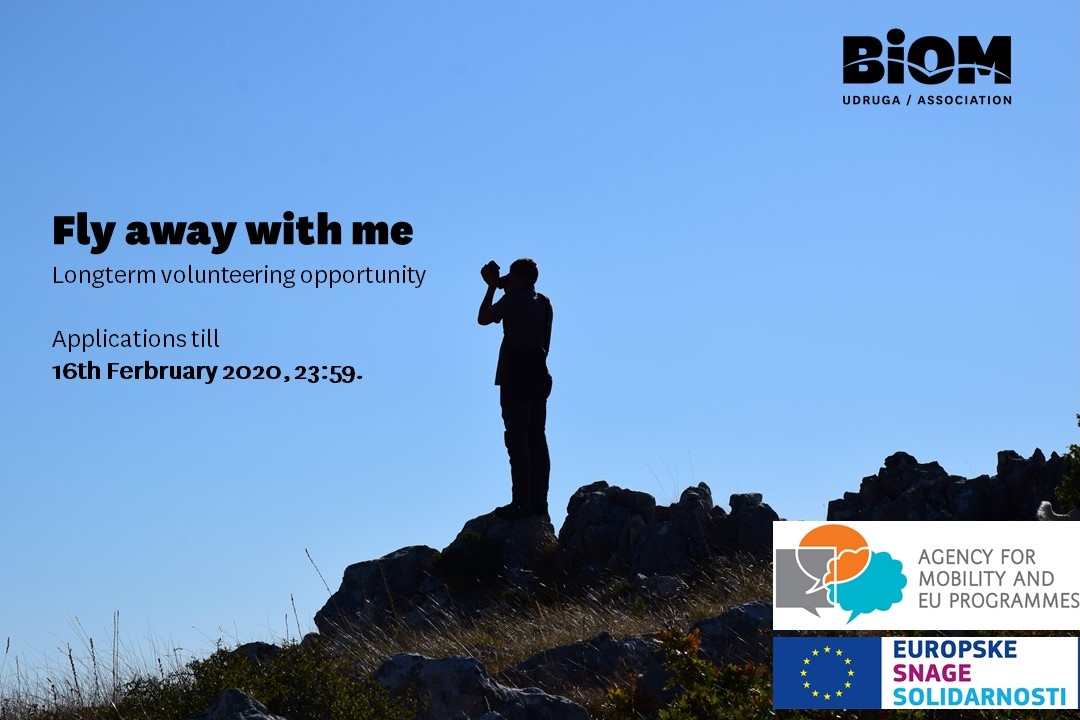 Placement dates: 01st April 2020. – 31st March 2021
Volunteer profile – if you are:
communicative and open-minded
responsible and independent
nature-lover
keen to develop skills in raising awareness on biodiversity crisis and environmental issues
interested in creating educational and promotional content for the organisation
interested in field-work and camping in Croatian nature parks and other protected areas
…you are just the person we are looking for!
Project description
Project "Fly away with me" is to create a positive and motivational working environment which will facilitate young people in gaining an insight into nature conservation in Croatia and allow the volunteer to improve their skills and knowledge in nature conservation, primarily through participating in events to raise public awareness and fieldwork. We would like to empower the citizens to take charge and fight the biodiversity crisis through volunteering, and by informing themselves non-formal learning. The volunteer will be offered a chance to test their strengths and weaknesses, challenge themselves and get inspiration from this life experience by promoting and conducting bird conservation and education.
Your responsibilities
Participation in educational and promotional activities
Organisation of volunteering and citizen science activities
Assistance in development and implementation of volunteering programmes
Assistance in organization and implementation of habitat restoration camps
Assistance in organization and implementation of bird ringing camp
Creation of educational and promotional content – biodiversity-related educational articles, infographics and other content for the web
Development of an individual project
We are offering
motivational, dynamic, flexible and friendly working environment
gaining expertise in nature conservation
opportunity to build up your organisational and leadership skills
opportunity to develop your writing and presentational skills
creative tasks
travelling all over Croatia
Accommodation, food & transport arrangements
Volunteer will be placed in a studio apartment in the Zagreb City centre, 20 mins walking distance from the Biom office and 5 mins walking distance from the main railway station. When participating in field-work volunteer will be sharing the accommodation with colleagues from Biom. On occasion it will include camping in nature.
Volunteer will be getting a monthly allowance and money for food expenses. They will have a kitchen available in their flat and in the office.
Volunteer will be lent a bike for the duration of the placement
Trainings during the project
On-arrival training, organized by the hosting organization
On-arrival training, organized by the National Agency
Mid-term training, organized by the National Agency
Croatian language lessons
Workshops related to the project activities
If you are interested, send your CV and motivation letter until 16th February 2020, 23:59 to: volonteri@biom.hr indicating that you are applying for the Fly away with me project. We will organize a skype interview with pre-selected candidates.
The project is supported by European Solidarity Corps and run by Croatian National Agency "Agencija za mobilnost i programe EU".